Because we were finalizing summer living details while in Kyoto, we didn't see as much as we could have during our week there. But here is what we did explore:
1) Nishiki Market: I didn't find this market as friendly or interesting as the Kuromon Market in Osaka. Perhaps it was because the food was more expensive and the space was more crowded. On the other hand, the market was attached to a big open mall, full of clothing stores, restaurants, and small temples. Interesting to walk through, though prices were too blue for our blood.
2) Kyoto Manga Museum: This was both more and less interesting than I expected. While there is one room with a museum-like exhibit and explanations, this is actually much more of a manga reading library and workshop. The museum room gives beginner-level information, with everything from timelines to videos showing manga being drawn. They also have thousands of manga books throughout the building, and lots of teens and 20-somethings sitting everywhere – including the big lawn out front – reading them. There are also places downstairs where you draw your own character, where you can have yourself drawn as a character, and where you can submit unsolicited manga 'manuscripts.' The cafe takes orders using something that resembles a vending machine and has drawings of manga characters covering its walls. The matcha cheesecake is pretty good.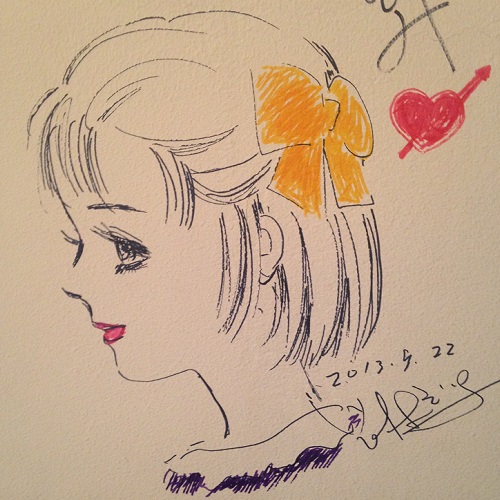 3) Nijo Castle: This is the best-known castle in town, but we didn't like it as much as Osaka Castle. That's because much of it was roped off: having gardens, grass, and even steps blocked off from visitor access made it feel like a stuffy museum. Inside the castle, the decorations and paintings had been replaced by replicas, and the real versions placed in a different museum. Only one of the rooms had life-sized dolls demonstrating what it had been used for, which made it difficult to visualize. The biggest draw was that the floors inside the castle have a distinctive squeak intended to detect ninja assassins! When you step on the floor boards, the sound that emerges is a cross between an exhale and a kettle boiling. And it's true: no matter how thin you are or how much you tiptoe, you can't prevent the sound. It's a cool thing to experience, though it turns out to be more common in Kyoto than expected. The dry (rock) garden in Daitoku-ji used them also, for example. In total, I would have skipped it, had I known what it would be like.
4) Kyoto Botanical Garden: We might not have had the most ideal experience here, given the pouring rain. But it was indeed pretty, with very vibrant flowers.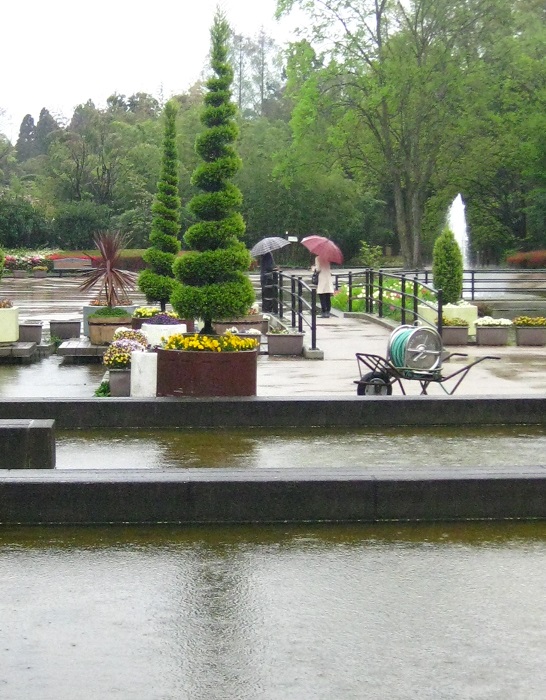 5) Daitoku-ji: Here, we visited the Dry Garden (in a sub-section called Daisen-in) and the restaurant (called Izusen). The restaurant specializes in shojin ryori, a traditional Buddhist cuisine that uses seasonal ingredients – and means 'devotion cuisine.' More detail is here. <link coming> The Dry Garden was quite interesting too: it's a rock garden in which every item was meticulously planned out by a well-known monk. Inside are interesting poems about the nature of life that we both appreciated. The screens inside were painted by well-known guys and focused on the seasons. The outside used figures like turtles and cranes to illustrate the progression of life. You can even do a tea ceremony here. Recommended!
6) Kyoto City Hall: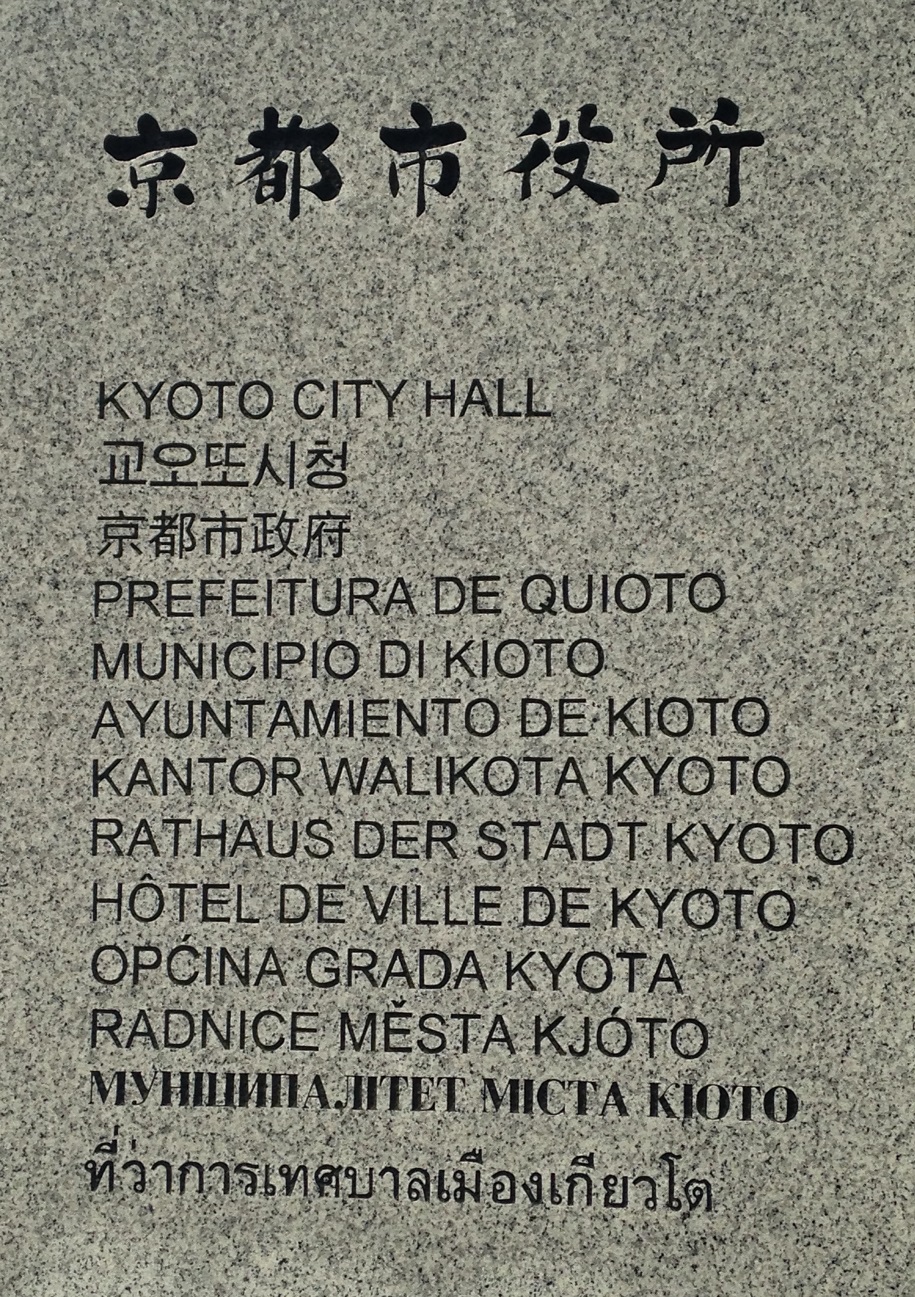 We didn't even go inside, but the outside was nice enough: there's even a tiny park on the side where you can sit or eat lunch. Most interesting was the sign that read 'Kyoto City Hall:' it was written in Japanese and then in English, Korean, and Chinese. After that the selected languages got a bit strange: Portuguese, Italian, Spanish, Indonesian, German, French, Croatian, Czech, Ukrainian, and Thai! We decided it must be related to Kyoto's sister cities, and most do, in fact, match up. However, Portuguese, Indonesian, and Thai are listed inexplicably, and Filipino is missing! Anyway, what initially caught my attention was the use of Ukrainian, but not Russian. In case that sign discussion didn't make it obvious enough, I wouldn't go out of your way to come here.
7) A lot of temples: We didn't write down all of their names, but we saw a lot of shrines and temples – in keeping with Kyoto's focus on them. B joked that the only thing they all had in common was that they had all been relocated at one point or another.
What We Skipped:
Kyoto Imperial Palace: Surprisingly, not visiting this palace and gardens told me a lot about the Japanese. Here's why: I tried to get a reservation to visit this palace over one month in advance, with a possible window of five possible days on which we could come. And yet, that far in advance, every single slot was sold out! Talk about planning ahead! When I made a booking to visit the Vatican with similar advance notice, there were dozens of slots still open. (There were also some day-of tickets we could have gone for, though the Castle experience in Kyoto turned us off to trying.)
Genkoan: This is a Zen Buddhist temple that is reported to have two views into the same garden: a rectangular Window of Confusion and a circular Window of Enlightenment. They are supposed to illustrate the dichotomy between the ordinary and enlightened views of the same world. Though it's a cool idea, we didn't have time to get out here to see them, unfortunately.
Yasaka Shrine: In 869, a terrible epidemic hit Kyoto; the mikoshi (god) of this shrine was paraded through the city to ward off the evil spirits causing it. Alas, we didn't get a chance to parade or to see this one.
Senbon Shakado/Daihoonji Temple: This is one of only a few temples to survive the Onin War, making it one of oldest structures in Kyoto. The story about it is interesting, if morbid: The temple has a small statue of the wife of the master carpenter who build the temple. The carpenter made a mistake in the design, but his wife found a solution. However, she became concerned that someone would find out about her role in it and his reputation would be damaged, so she took her own life – in accordance with historical local customs of honor. Today, carpenters and others come to the temple to pray to her. I was sad that we ran out of time for this one.
Kinkaku-ji/Temple of the Golden Pavilion: Another temple we missed due to time constraints.
Kennin-ji: This temple is known for its dramatic paintings – like a dragon ceiling by Koizumi Junsaku. We saw some similar things in other temples, so we skipped this.
Myoshin-ji: This temple claims to be the largest Zen Buddhist Temple complex in the world and includes a regular tour of the temple's 500-year old bathroom. I prefer Japan's modern (Western-style) bathrooms.
Kiyomizu-dera: This is another well-known temple, famous because its main hall – though built on a steep slope – was assembled with 139 pillars and no nails.
Fushimi Inari Taisha: This was the most-recommended temple in Kyoto that we skipped. It has five thousand bright orange torii (shrine gates) covering a path up to the top of a mountain. Next time!
Taizo-in or Shunko-in: Given the intensity of our discussions and decision-making in Kyoto, we probably should have attended one of the Zen meditation sessions at these two temples.
Heian Shrine: This shrine has a huge gate and lovely gardens, though we ran out of time for it. Some recommend getting to it by strolling over from Maruyama Park, through the streets of Higashiyama.
Philosopher's Walk: They say that this walk, from Ginkaku-ji to Nanzen-ji, along a pretty canal-side path takes thirty minutes. We weren't willing to go in the rain.
Kyoto Municipal Museum of Art: We were actually right near this building, but we were too tired to see it. Oops.
Kyoto Museum of Traditional Crafts: This museum of local crafts like netsuke, clothing, fans, umbrellas, lacquerware, religious items, and noh masks sounded cool. Luckily for us, there is supposed to be one just like it in Tokyo.
Gekkeikan (Sake) Brewery: B said this wasn't a priority for him; he drank sake in several restaurants instead.
See a geisha/maiko: This is what I was saddest to miss in Kyoto, though there would have been no guarantee of spotting one even if we had waited in the Gion neighborhood for hours. It would have been nice to stroll the Pontocho, a very old atmospheric alley that runs parallel to Kamo River lined with restaurants, tea houses, and illuminated lanterns.