Imagine that you've come to NYC, and you need a local. (I'm not sure why, since Google Maps is so wide-spread, but let's say you need one.) Here's how to differentiate the locals from fellow visitors and recent transplants:
1) They wait to cross the street in the street.
New Yorkers don't like to wait. Unlike the Danish, proper signal obedience is not a priority – even to set a good example for children. If a New Yorker wants to cross a street, he confirms that no cars are hurtling quickly enough towards him, and then he crosses. Whether the signal is red or green has little to do with it, so long as no one is hurt. And if there is a vehicle in a New Yorker's way, she will step into the road while she waits for it to pass; she won't wait on the curb. Now, she's clearly still out of the way, since there's a parked car or space between her and the oncoming traffic. But waiting on the sidewalk is something that newbies do.
2) They know how to pronounce local places.
Every area has its own quirks of pronunciation, and New York is no different. But while some places skip reading letters (I'm looking at you, Johnston, Ohio, with the silent "t"), New Yorkers just use different pronunciations of vowels. For example, New Yorkers usually have a co-worker or an event to attend in Hoboken, New Jersey, since it's a NYC suburb. So, of course, they know how to say it correctly. Visitors inevitably mess up the "o"s and the emphasis syllable. The same is true of major Manhattan street "Houston." It is not said like the city in Texas (think, "Houston, we have a problem"). In fact, it's pronounced "How-stun."
3) They don't gawk.
Break dancers on the subway are not news. People trying to give you brochures or convert you or get you to donate are everywhere. And people mumbling or saying strange things will definitely approach you. Even celebrities aren't that big a deal here. New Yorkers don't let any of these things break their stride: gawking is not appropriate behavior. In fact, making direct eye contact is sub-optimal. (Unless you're a creepy stalker or would-be-groper; then, you will try to make eye contact, despite being a New Yorker.) When riding the subway or bus, many New Yorkers will stare at nothing – like a door, wall, ceiling, ad, or floor.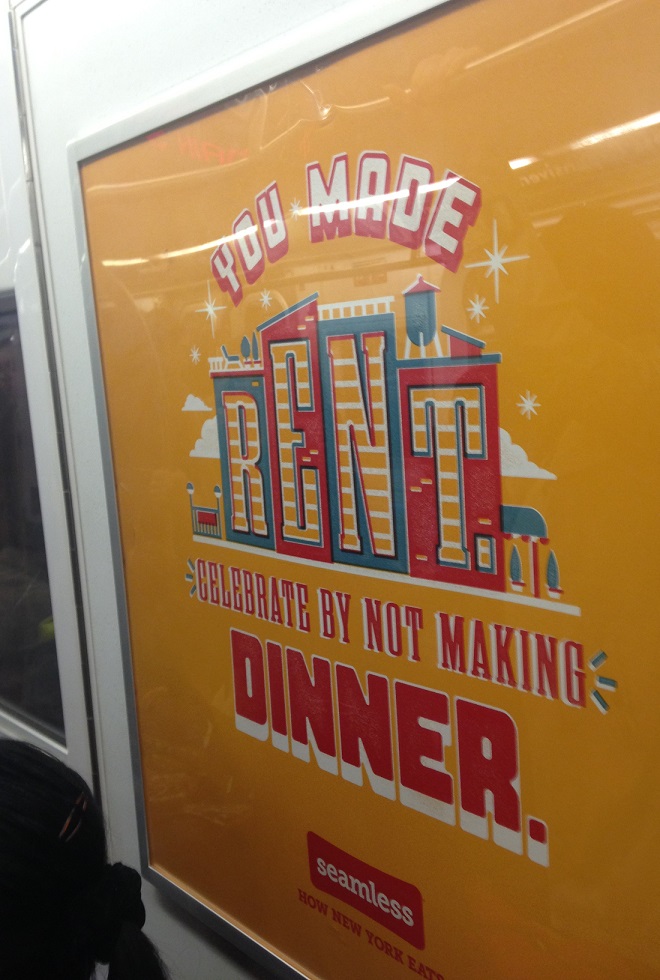 4) They eat brunch at brunch-time.
The boozy weekend brunch is standard fare for New Yorkers. But weekend wake-up times are later, and brunch starts no earlier than noon – and, more often than not, at 1 or 1:30 pm. If someone is seeking nutrition at 10 am on a Sunday, she is either attending an event or not a local. Brunch also doesn't end until around 4 pm on weekends, so visitors can be found having lunch or dinner alongside local brunchers.
There are, of course, many more tell-tale signs of locals vs. New Yorkers, but these were the first few we unearthed, as I introduced B to NYC. He now waits to cross in the street, pronounces Hoboken almost correctly, and doesn't stare. (His regular wake-up time is late, so brunch was already tailor-made for him.) Progress.