I was recently asked:
Based on all of the places you've been…, which one has been the best of all?
We have liked many of the places we've visited, so picking a single "best" one isn't easy. I'll consider the following criteria:
People: Is the city diverse? Are the people interesting? Are they generally nice?
Food: As you might have guessed from our gluttony posts, delicious food is very important to us.
Weather: Are the winters too cold? Are the summers too hot? How much does it rain?
Cost: If a city is so expensive that we can't afford to do anything, it's not very enjoyable.
Transit: How easy is it to get there and to get around?
Things to do: Is it nice to walk around? Does it have enough fun things to do? Does it have interesting art?
This post is entirely subjective, and no place is perfect. Based on my own preferences, and with some input from N, here are my candidates for "the best place":
Copenhagen, Denmark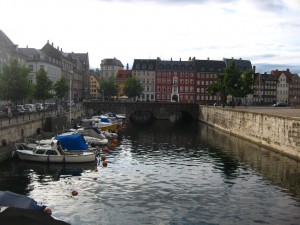 Copenhagen was a beautiful city with smart people, a lot of interesting things to do, nice art, a good public transit system, and lots of bike lanes for people to ride in. Everybody rides bicycles! It's also generally easy to get around if you know English.
On the other hand, it has long, cold, dark winters because it is pretty far north. We didn't like the food there as much as in other cities. And it was very expensive: at many restaurants, a meal for one person is over $50!
Amalfi Coast, Italy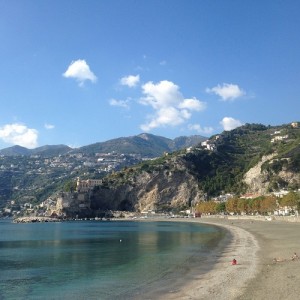 After visiting a lot of big cities, it was very nice to slow down a little bit in Maiori, Italy. It's situated on the Tyrrhenian Sea, with beautiful views of the water and the surrounding countryside. Everyone we met there was very nice, even though our Italian is not very good. It's a great place to hike, relax, stroll around, and enjoy some nice coastal Italian food.
One of the biggest negatives is that it's pretty isolated: getting there requires a long bus ride down a very windy road. After a month or two, you will have done most of what there is to do; after all, it's a very small town. But for someone trying to take some time away, maybe to write a book or to work on a difficult project, it's a great place to do it.
Seoul, South Korea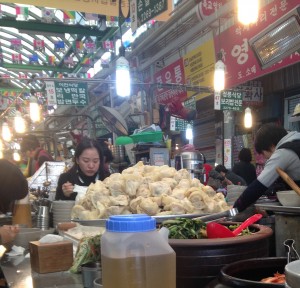 Did you know that Seoul has the second-largest metropolitan population in the world? We really liked this city! We like Korean food, the subway is really nice, it's affordable, it has diverse and interesting neighborhoods, and there is a very large variety of things to do.
It gets cold in the winter, though. We left at the beginning of December, and the last few days got below 15°F (-10°C)! Korean is a very interesting language, and it's supposed to be easy to learn, but it can be hard to get around if you don't know it because most people only speak Korean. There is also political tension with nearby North Korea.
Kampot, Cambodia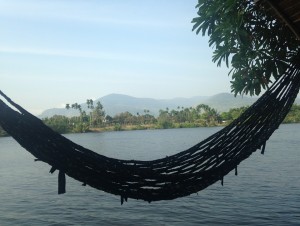 I think we'll always have a special place in our hearts for this small town in southern Cambodia. We spent a full month here, the longest stay of our trip! It only has 40,000 residents, but it had several good restaurants. Did I mention that it's incredibly cheap? For about $60-70, you can spend a night in a hotel, eat out for three meals, rent two motorbikes for a full day, and get two 1-hour massages! And that basically describes our typical day in Kampot! We loved being there in December and January, when it was consistently 80-90°F (25-32°C), with tons of sun and no rain. Best of all was that both the locals and the thriving expatriate community were very friendly.
There are several downsides to Cambodia, though. It's pretty far from anywhere in Europe or the Americas, requiring a 3-hour bus ride and at least two plane transfers to get there. Even though Cambodia is developing very rapidly, there are still some infrastructure issues. The worst part, though, is probably the monsoon climate: it gets very hot in April, and then from May to October it pours for a few hours every day.
Singapore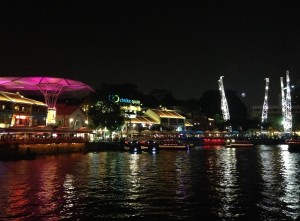 I liked Singapore much more than expected! It has a very diverse population, with locals from all over the world. As a result, it also has a lot of different, tasty food, and it's pretty cheap too. The city is quite clean and easy to get around, it had the only Modern Art Museum that I've ever liked, and there were many cultural things to do.
The main downside is probably the rainy season: Singapore averages 234 cm of rain per year—it's probably the rainiest big city in the world! It was also hotter than N would prefer, though I liked it. Many people told us that it seemed fake, and while there are plenty of manufactured, touristic things to do (Universal Studios and the rest of Sentosa Island, Marina Bay Sands Casino, Singapore Zoo, etc.), there is also plenty of character when you take the time to scratch the surface.
Osaka, Japan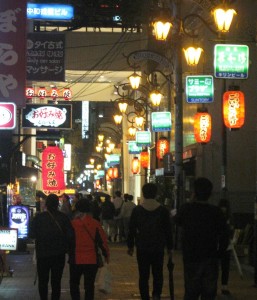 When people think of Japanese cities, they undoubtedly think of Tokyo, but we really enjoyed Osaka! The biggest reason we liked this city was the food: there are good restaurants everywhere! It is even known as Japan's Kitchen. It also has a lot of neat neighborhoods close to each other, so you can spend the whole day just walking around and seeing unique things, like ancient temples right between regular apartment buildings. The trains in Japan are great, too: you can get to any part of the country very fast on the 320 km/h bullet train!
It also has its negatives, though. It has cold winters and rainy springs. It's cheap compared to the rest of Japan, but it's quite expensive compared to many other places in Asia.
London, England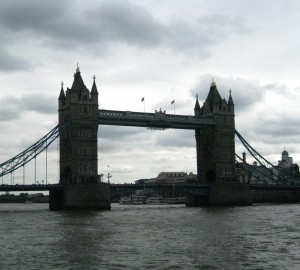 I saved London for last because it's the city we would be most likely to move to! This is a very large and beautiful city. It has nice free museums, interesting art, a world-class subway system, many different neighborhoods, a very diverse population, and a lot of variety in restaurants.
Most of all, though, we spent a lot of time visiting family and friends in London, and some of our best friends live there right now. For me, good friends turn a good city into a great one.
To be sure, London has its own drawbacks. Everyone already knows that it rains a lot in London. It's also expensive, and we don't necessarily agree with its politics.
One of the worst things about our trip was leaving places that we really liked, many of which we'll never return to. For the places on this list, though, we'll almost certainly be back!