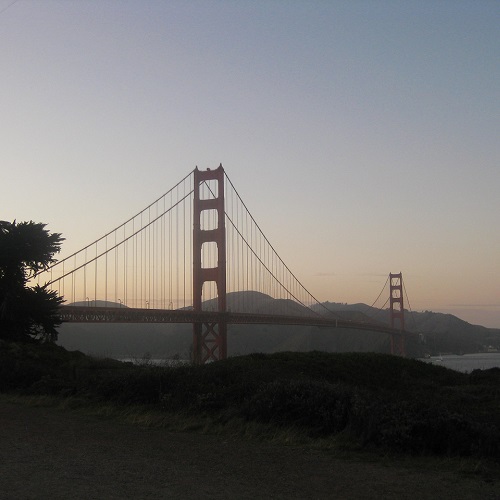 When we were plotting our return to the US, we thought we might need to drive our car from San Francisco to Milwaukee. Unfortunately, some work circumstances changed, and we came up with an alternate plan that didn't require such a road trip. However, the work of planning the trip was already done, so I thought I'd share it, in case it is helpful to anyone planning a similar trip.
The goals of this itinerary were:
To drive nine to twelve hours per day.
To break up the long drives into manageable chunks of two to four hours.
To do that by seeing random, interesting attractions along the way – that were not far off our route.
To visit friends in Colorado and to see Mount Rushmore.
With that in mind, here is the route I planned:
Day 1  [11+ hours driving]
Oakland, CA → Reno, NV: 3.5 hours [3+ construction zones]

Giant Indian Head/Wa-Pai-Shone (right off I-80 near Sparks, NV): Big sculpture; I-80 exit 12, drive south on Keystone Ave. for ½ mile, turn right onto Riverside Drive, then first left onto Booth St., cross the river, first right onto Idlewild Drive, drive ¼ mile, turn right onto Cowan Drive, enter Idlewild Park, drive ¼ mile, it's on left
National Automobile Museum (right off I-80 near Reno, NV): 200 cars, many were in movies; 10 Lake St., at Mill St. and Museum Dr.; Mon-Sat 9:30-5:30, Sun 10-4; call to verify open

Reno, NV → Elko, NV: 4.25 hours

Pyramid Lake (45-60 min off route in NV): On Native American land, good fishing or picnicking, primitive beaches; get pass at gas station if go
70-Ton Tortoise (right off I-80 near Fenley, NV): Built to be unmovable, to outlast civilization, made by Burning Man people, kids climb it; North side of E. Main St. between 6th St. and Silver Lace Blvd, in an art park opposite gas station
World's Largest Polar Bear (right off I-80 near Elko, NV); Commercial Hotel and Casino, at 345 4th St.: I-80 exit 303, turn south onto Hwy 535, turn right following Hwy 535/Idaho St. into town

Elko, NV → Salt Lake City, UT: 3.5 hours

Wendover Will (right off I-80 near Wendover, NV): Giant lit-up cowboy; I-80 exit 410, drive south on US 93, quick right onto Wendover Blvd., drive 1/2 mile west of casinos
Daughters of the Utah Pioneers Museum (right off I-80 near Salt Lake City, UT): Stuffed two-headed lamb, bread from 1893; 300 N Main St.

Sleep: Salt Lake City, UT
Day 2 [9 hours driving]
Salt Lake City, UT → Price, UT: 2 hours

Mount Rushmore Replica (right off I-15 in Lehi, UT); Seven Peaks Fun Center at 1320 N. 300 W. St.: parking lot on east side of N. 300 W. St. just south of I-15.
Sri Sri Radha Krishna Temple (right off Hwy 6 in Spanish Fork, UT); 8628 South State Rd.: I-15 exit 253, east on Hwy 164/8000 S./80th S. for 2 miles, turn right onto Mill Rd, then south 1 mile
Nursing Home Stonehenge (in American Fork, UT); 538 S. 500 E. in American Fork: I-15 exit 276, drive north on Hwy 180/S. 500 E. for ½ mile.

Price, UT → Grand Junction, CO: 2.5 hours

Arches National Park: Visit Delicate Arch viewpoint, possible 36 mile RT Scenic Drive takes 2-3 hours; $10/car; Visitor Center open 7:30-6, park itself open 24h; possible hikes (RT):

Balanced Rock: 15-30 min / 0.3 miles
Double Arch: 15-30 min / 0.5 miles
Landscape Arch: 30-60 min / 2 miles; possible side trips to Tunnel Arch or Pine Tree Arch
The Windows: 30-60 min / 1 mile

Grand Junction, CO → Boulder, CO: 4.25 hours
Sleep: Boulder, CO
Day 3  [9+ hours driving]
Boulder, CO → Lusk, WY: 3.75 hours

Stagecoach Museum (right off I-90 in Lusk, WY); 322 S. Main St.; Call to check hours

Lusk, WY → Mount Rushmore, SD: 2.5 hours

Flintstones Bedrock City (right off Hwy 16 in Custer, SD); 301 W. Mt Rushmore Rd. in Custer: on west end of town, just west of the US 16/385 split; on south side of US 16
Chief Crazy Horse Memorial (right off Hwy 16, past Custer, SD); 202 Ave. of the Chiefs in Crazy Horse: off of US 385/16, 6 miles north of Custer/17 miles SW of Mount Rushmore; Daily 7-dark, Off-season 8-5
Mount Rushmore (in Keystone, SD); 13000 Hwy. 244 in Keystone: I-90 exit at Rapid City, follow US Hwy 16 southwest to Keystone, follow Hwy 244 to it; from south, follow Hwy 385 north to Hwy 244 to it; Daily 5-8 (winter) or 11 (summer)

Mount Rushmore, SD → I-90, SD: 2.5 hours

National Presidential Wax Museum (right off Hwy 16, past Mount Rushmore); 609 Highway 16A on Keystone: South of downtown Rapid City, 10 miles on US 16, then exit south on US 16A toward Keystone, drive 2 miles, cross Hwy 40, drive ½ mile to south end of town
Wall Drug Store and Dinosaur (right off I-90 in Wall, SD): Western-themed mall/amusement park with animatronic TRex, animated Chuck Wagon Quartet, piano-playing, singing gorilla, jackalope statue; 510 Main St.: I-90 exit 110, turn north onto Glenn St., turn left, drive 2 blocks, turn right onto Main St., 2 blocks north on right
Skeleton Man Walking Skeleton Dinosaur (right off I-90); On westbound side of I-90, just before exit 170
Whitetail Deer Made of Car Parts (right off I-90 in Kadoka, SD); South side of I-90 exit 150, State Road 73, Sinclair gas station

Sleep: Off I-90
Day 4  [11+ hours driving]
I-90, SD → Sioux Falls, SD: 2.75 hours

Mitchell Corn Palace (right off I-90 in Mitchell, SD); 604 N. Main St.: I-90 to Mitchell, north on Hwy 37 (Burr Street), left on Havens Avenue, right on Sanborn Boulevard, left on 7th Avenue for 3 blocks; Daily 8-9, off-season Sat-Sun closed; call to verify hours
Porter Sculpture Park (right off I-90 in Montrose, SD); 25700 451st Ave.: I-90 west to exit 374, turn south onto 451st Ave., drive ½ mile, on left; Summer: daily 8-6; call to verify hours
Replica of David Statue (right off I-90); I-229 exit 6, west on Hwy 42/E. 10th St. Downtown, just west of river, on S. 2nd Ave. between E. 10th and 11th Sts.

Sioux Falls, SD → Rochester, MN: 3.5 hours

Jolly Green Giant Statue and Museum (right off I-90 in Blue Earth, MN)

Statue: 1130 Giant Dr.: I-90 exit 119, turn south onto US 169, drive ½ mile, turn right onto CR-104/Fairgrounds Rd, turn left onto Giant Drive, it's behind Dairy Queen
Museum: South of the Statue, on south side of W. 6th St., 8 blocks west of US 169, at corner of W. 6th and S. Nicollet Sts., next to the Blue Earth Chamber of Commerce.; Mon-Thu 9-5, Fri 9-3; Call to verify hours

Rochester, MN → Wisconsin Dells, WI: 2.5 hours

Fiberglass Animals, Shapes, and Trademarks Corp. (right off I-90 in Sparta, WI): Mold yard with different giant fiberglass statues; 14177 County Highway Q, Sparta, WI: NE of town on Angelo Rd/Hwy 21 – drive 1.5 miles, past American Legion post with Cobra attack helicopter out front, turn left onto Hwy Q.
Museum of Historic Torture Devices (in Wisconsin Dells, WI); 740 Eddy St. in Wisconsin Dells: I-90/94 exit 87, east on Hwy 13 through a few stop lights, across bridge into downtown Wisconsin Dells, 2nd right onto Eddy St.; Summer daily, otherwise Sat-Sun only; call for hours
Top Secret – Upside-Down White House (in Wisconsin Dells, WI); 527 Wisconsin Dells Pkwy. in Wisconsin Dells: I-90/94 exit 87, east on Hwy 13 for 1 mile, turn right onto US 12/WI Dells Parkway, it's on right in ½ mile, just past 1st stoplight
Wizard Quest (in Wisconsin Dells, WI); 105 Broadway in Wisconsin Dells: I-90/94 exit 87, east on Hwy 13 through few traffic lights, across bridge into downtown WI Dells, on left, at Eddy St.

Wisconsin Dells, WI → Milwaukee, WI: 2.5 hours
Sleep: Milwaukee, WI