For many of the cities we visit, I look up events happening during our stay. We don't attend many, since they tend to be performances of international artists or bands – and we've come to that country to experience their local art. However, in Bangkok, we did. I had read about a market/festival that had gotten rave reviews the first time they held it; time number two was happening during our visit, and the location was even supposed to be safer, the newspaper reported. We decided to go – to see how the locals eat and shop, especially since our apartment was in such a touristy neighborhood as to make that impossible.
When we arrived, the festival was still setting up, and people other than workers were sparse. That was fine by me, since I was hungry enough to appreciate the lack of queues. I got salmon sashimi and B got a burger, and we sat on some wooden steps to eat. The grounds were on the banks of the Chao Phraya River, right beside a vehicular bridge that looks a bit like Milwaukee's Reiman Bridge.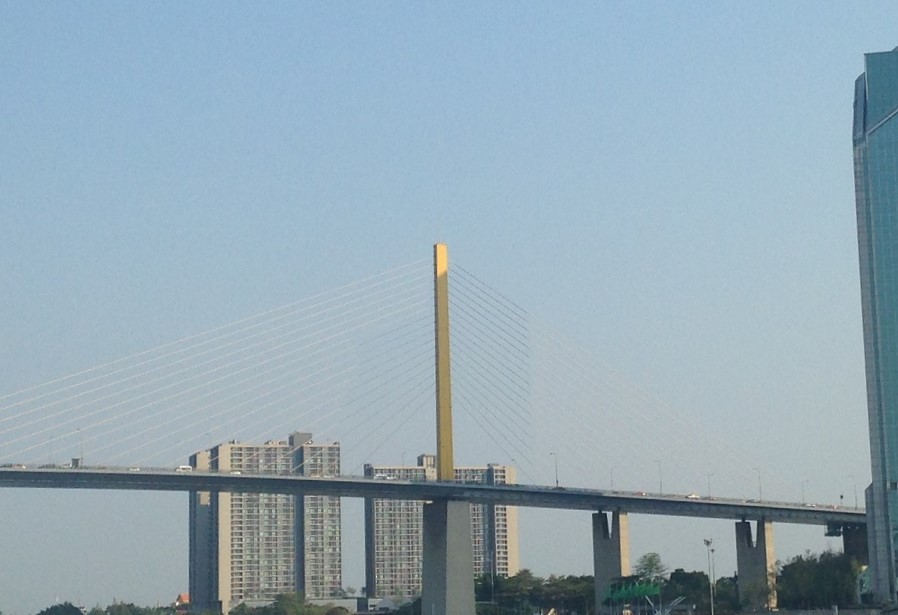 A pier was below, with small yachts anchored to it. The space right by the water was dominated by a riverside bar and restaurant, the only permanent structure in the area. Food and drink vendors were setting up in two separate rows, with a clothing and jewelry shop section between the two avenues. Hay bales, grass space, and some chairs were scattered throughout the area. It was pretty comfortable and open, and even mercifully shaded in a few areas.
As we sat there, people filtered into the festival. They came to look at the bracelets, to drink the fancy teas, and to take photos of each other. And more photos. Photos of themselves drinking juice, photos of themselves in front of booths selling sushi, photos of themselves sitting on the grass. There were even hay bales on the pier specifically as photo props – or so I assume, since there were no cows or horses in the proximity to enjoy them. And many of these were not iPhone photo selfies, but fancy SLR cameras with big lenses. Add to that the American Apparel-style crop tops and flowy pants they wore, and I couldn't help but feel that I was in the Bay area – or Portland – or Williamsburg: hipsters everywhere!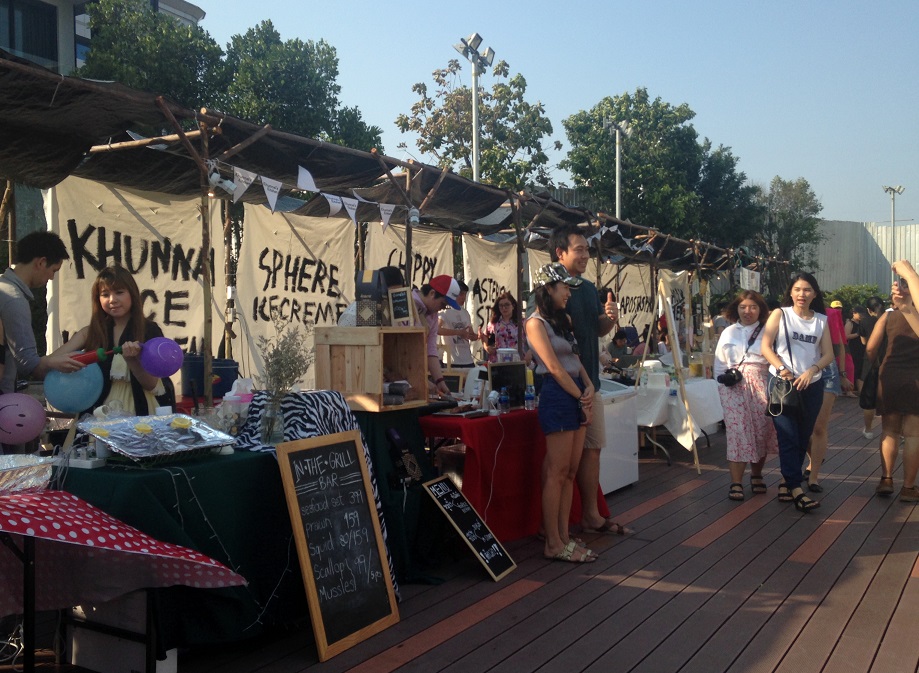 Now, B berated me for my antipathy towards these fashionable 20-year olds peacefully recording their weekend. And I was indeed quite judgmental. I wondered what they would remember from the event itself, and how they hoped their public images would be impacted by these photos, and whether they were spending money that their parents barely had – all of which might have been very unfair thoughts. After all, they might have been wondering why I came to Bangkok to eat non-Thai food that I could get at home, in a hipster environment reminiscent of the US. The non-native food was indeed delicious and the sunset was pretty; so, I had another spoonful of organic, fancy hazelnut ice cream and ignored the alarm going off in my head telling me that I am indeed old.