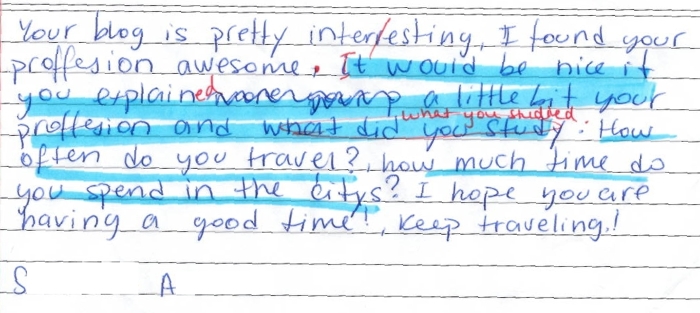 Dear S,
Thanks for your interest in our blog! My wife, N, writes most of the posts, so all the credit goes to her. She really appreciated your letter!
My profession is Software Engineering, also called Computer Programming. At university I studied Computer Science. You can read more about both my job and N's job in my reply to C.
You have lots of good questions! For this trip, we traveled for a whole year! We are lucky to have jobs that we can work from anywhere using our computers. On some days we stay inside and work, and on other days we go out and sightsee.
Before this trip, we typically took one 11-12 day international trip each year. One year we visited Germany and Turkey. For our honeymoon, we went to Greece. I had only visited those three countries (and the USA, where I'm from) before we started this trip. It's never too late to see new places!
We lived in San Francisco, so on long weekends (when there is a holiday on Friday or Monday), we often took trips to nearby areas like Big Sur, Point Reyes, or Yosemite.
The length of time that we stay in each city varies a lot. We used to stay anywhere from a few hours to one week in a city, but it's hard to keep moving so much for an entire year!
As we continued our trip, we slowed down a lot. In some of the biggest cities we visited—London, England; Seoul, South Korea; Singapore; and Tokyo, Japan—we stayed for three weeks. There is so much to do in these places, especially since we're working some days, that even three weeks sometimes didn't feel like enough!
We like the longer stays, because we feel like we don't have to rush, and we have enough time to learn a little bit about how the local people live day-to-day.
Thanks for wishing us well! We are having a good time!
Cheers,
B