We were in Osaka for almost a week, and here is what we saw:
1) Kuromon Market: This is an excellent food market that leans heavily toward seafood. Unlike other fish-related markets, it isn't smelly or dirty, and the path through the stalls is wider than many markets we've seen. We ate here several times, and I could go back and amble through it a couple more times. The market's name comes from the Japanese word for black gate, which is what used to be in this location: the gate to a nearby temple/shrine. Fishermen have been selling their wares here since the 1800s, and they say restaurants still come here to buy ingredients today. There are at least two sets of (clean!) bathrooms here and a small common eating area, necessary because much of the food is to-go, unless you like standing at counters. Another cool thing: there are giant fish or octopus figures hanging from the ceiling, to help you get oriented (pun not intended) in the market!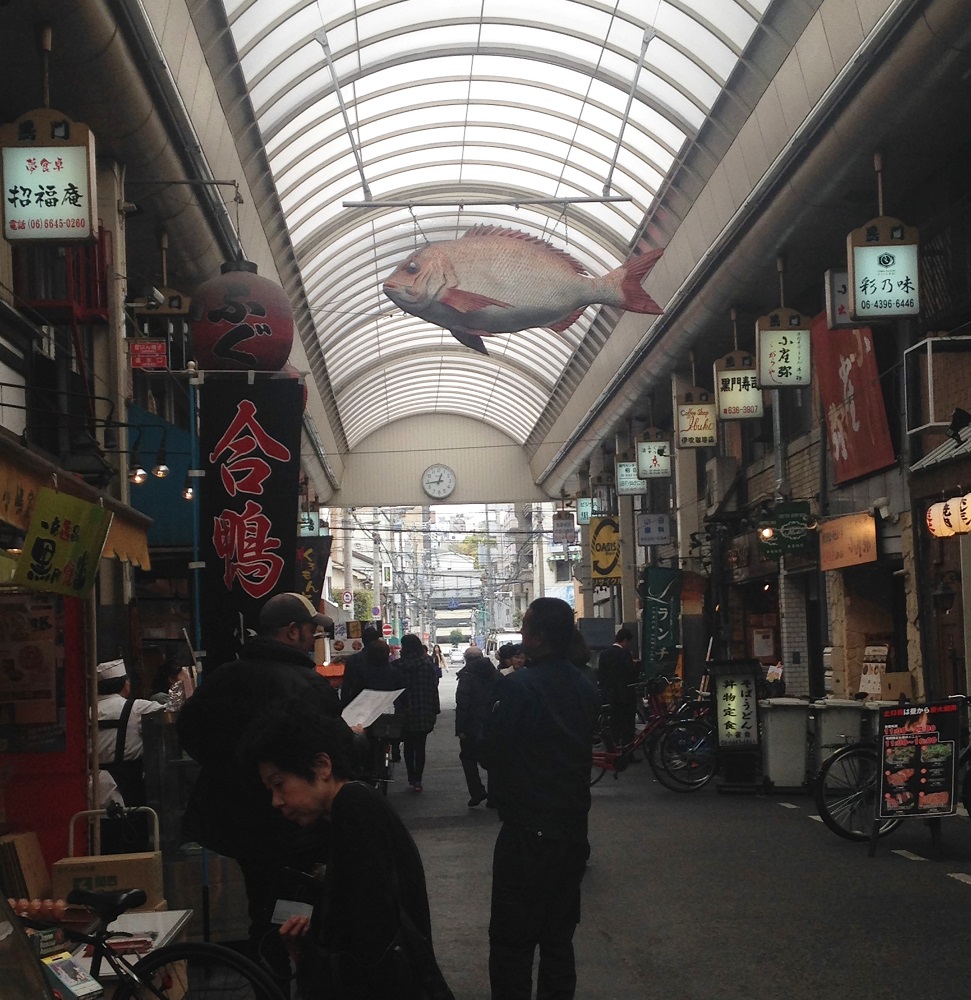 2) Tsutenkaku: This looks like a big TV or radio tower from the 70s. Attached to its outside is the largest clock in all of Japan. You can go up to the top floor, from which you get a decent panoramic view of the city. Along the way are a bunch of statues of the Billiken, a local diety that resembles a giant baby. On the fifth floor, there are a number of other baby-like gods. On the fourth floor, there are also statues of Hello Kitty with an octopus, Ganesha, and a dolphin. On the second floor are a big muscle man and a baby head with a hole for your hand, like the Mouth of Truth in Rome. And on the bottom floor are exhibits about the making of this tower, including a large diorama that lights up and a tower replica made of Pocky sticks, since Pocky seems to help sponsor the building. I wouldn't go out of your way to come here, but it may make sense as part of a day, since it is next to Tennoji Zoo, Spa World (below), and a shopping strip that many say has the best fried food on sticks.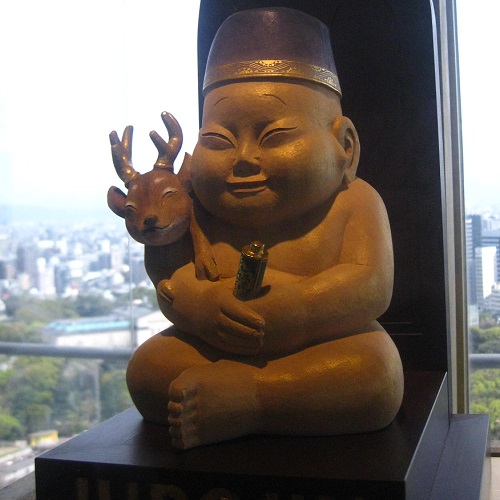 3) Maid Cafe: This is a regular cafe, except that the servers are all female and dressed in fanciful, but non-revealing maid outfits. When they serve your tea or coffee, they add your sugar and milk to your specifications, like a personal servant. (There are recently-opened butler cafes for the ladies, though they are not as popular.) The maids also offer massages, though we didn't see anyone taking them up on it. It wasn't clear if this was done in a separate room for maximum illicitness, or if it was secondary – and people mostly came to pretend they had enough money to have a servant. The other customers were all in pairs or groups, so it didn't seem creepy at all. The menu's wording in English was a bit off, offering to let you pick your own maid, and for them to put a spell on your beverage. It was unclear whether or not this ambiguity was intentional.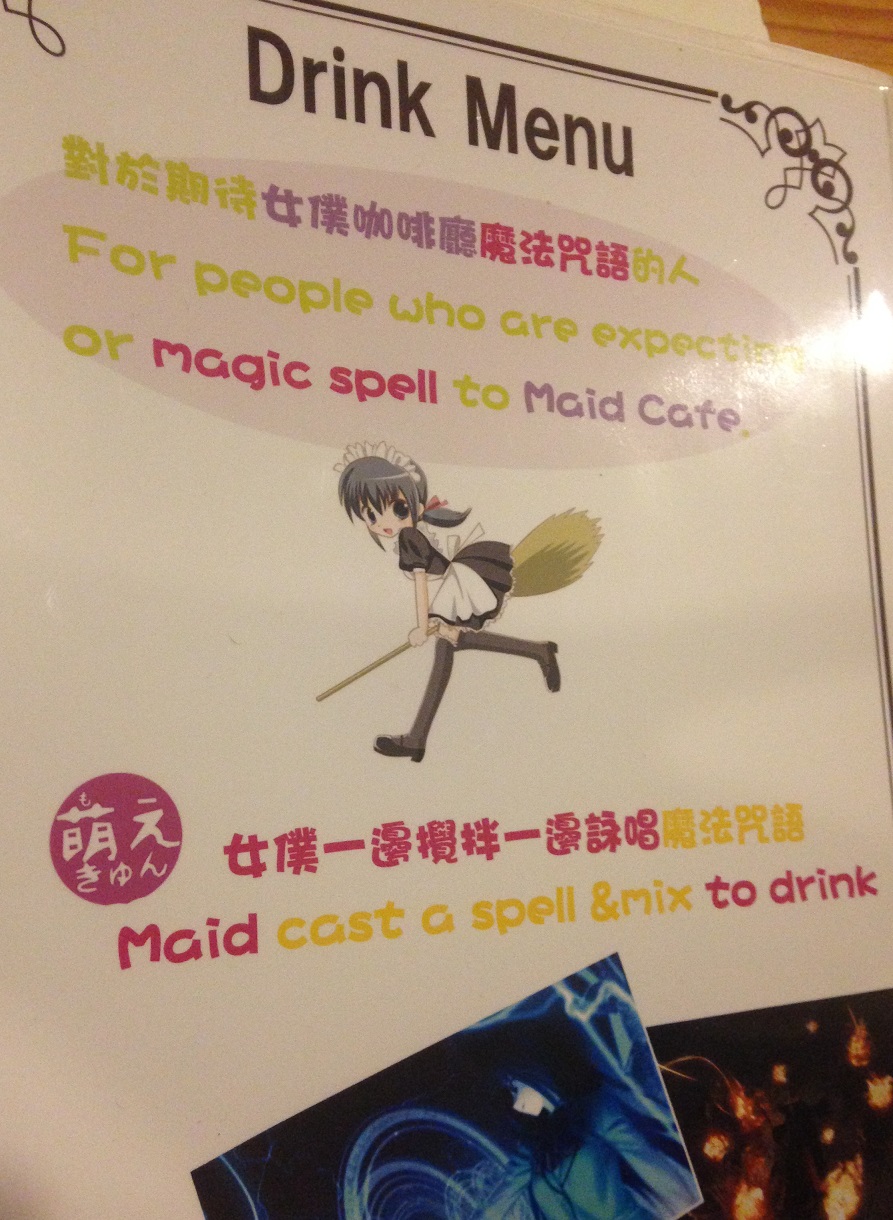 4) Osaka Castle: We enjoyed the grounds of the castle, but didn't actually go inside. It now houses an observation deck and a museum, where they say you can try on a samurai warrior helmet. Right out front, there are benches and lookout points, where tourists can pose with the building. The gardens were also nice, with cherry blossoms, views of the castle, and even a monkey performance. There are also plenty of other buildings around to explore, from baseball fields to monuments, or even a temple where people get married. The various elements of the castle were labeled – even in English, and you could wander through most of the gardens, which wasn't true at the Kyoto castle.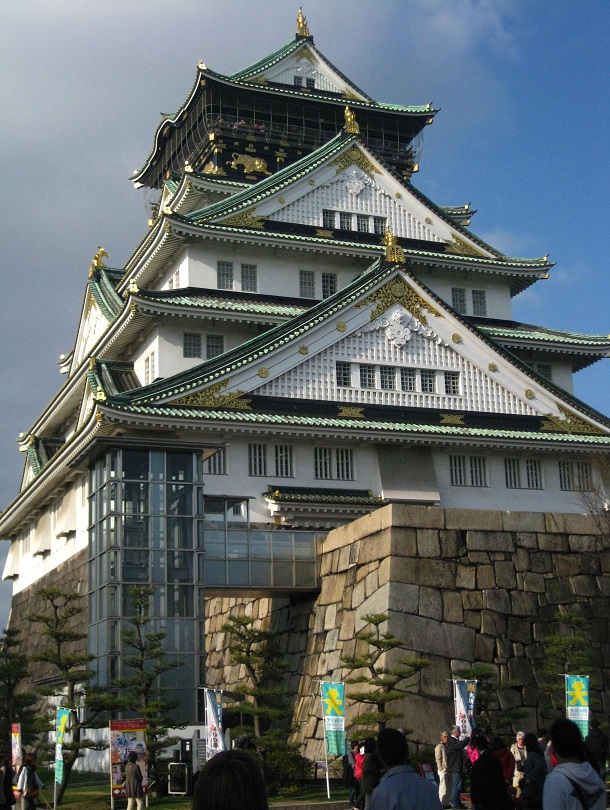 5) Hozenji Temple: Sadly, we didn't see this temple's God of Fury made out of moss who is thought to grant wishes. But, this was an easy shrine to visit, since it is right in the heart of the Dotonbori neighborhood. There are many pilgrims here, and it's a fairly public place to see what some of the religious rites look like. That said, it is not the most interesting temple in town, so consider visiting others as well.
6) Bunraku: This is a traditional kind of puppet show, in which three puppeteers – one master and two apprentices – control each puppet. The master controls the right hand and head, while one apprentice moves the left hand and the other moves the legs. The puppets each wear elaborate costumes appropriate to the story line, while the puppeteers dress in all black, including full black hoods covering the face for the two apprentices.
The puppet show is narrated by a minstrel, who is accompanied by a man playing a traditional guitar-like instrument. (B said it's made out of cats or dogs, or something else I don't want to think about.) The minstrels switch out for each 'act' of each play, since singing for that long straight is difficult. They sing in Japanese, and there is a display above the stage with some writing, like they sometimes have at Italian operas. However, many people in the audience get an audio guide, which explains each portion of the show while it is going on; without this, we would have been supremely confused. Ours was in English, but they had one in Japanese too. The timing on it is impeccable: it is perfectly coordinated with the action on stage, so you know what's happening, but the 'real live' narrative isn't interrupted.
A full performance is four hours long and consists of three or so different 'plays,' each on different themes. Many people come for only one of the shows, perhaps because sitting for that long is tough. It is made more difficult by the fact that the Japanese are so silent during performances. I mean, I couldn't even hear any rustling during the show! I didn't want to shift in my chair, for fear that a tiny squeak would ring out.
We were lucky enough to see a play about a well-known hero of Japanese warrior history, which made several historical signs we later saw in Kyoto make more sense. Overall, I was quite impressed by the coordination and the singing of the performers – and the expressiveness of the art form. I would very much recommend it!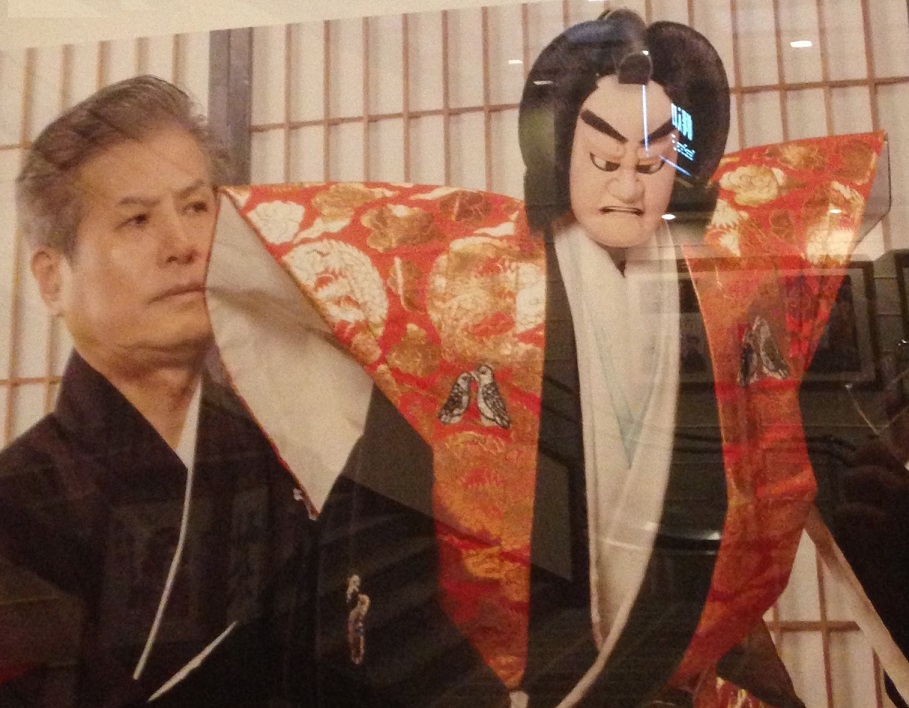 7) Exploring Neighborhoods:
Amerikamura: This neighborhood is full of little shops and food vendors and American paraphernalia, like this giant Uncle Sam statue on top of a roof. Many of the stores sell used clothing at higher-than-expected prices, and a lot of teens like to hang out in the area. It's a bit like the present-day Haight neighborhood of San Francisco.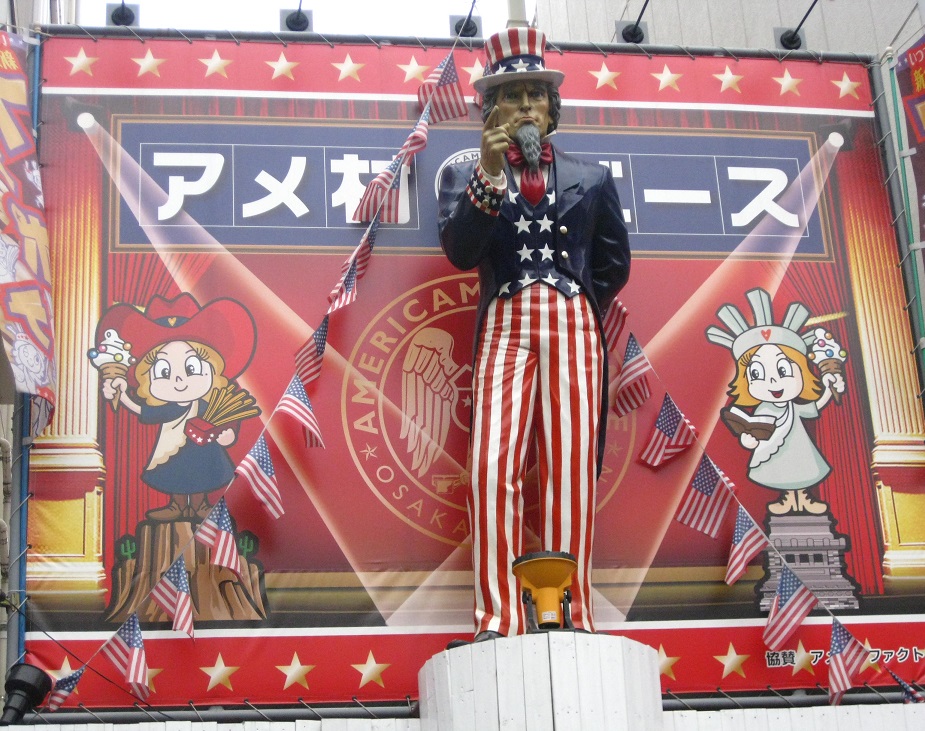 Shinsaibashi: Compared to Amerikamura, this area has more expensive stores, boutiques, and cafes. Big department stores can be found in this neighborhood, along a large avenue that reminded me of Orchard Road in Singapore.
Umeda: Speaking of fancy areas, this northern part of Osaka is the local definition of posh. The tallest skyscrapers in town are here, as are many of the fancy hotels. The prices are intense: we tried to go to a jazz club here that reminded us of Oakland's Yoshi's, but the cost was much higher.
Nipponbashi/Den Den Town: This is the part of Osaka with dozens of stores selling anime, manga, costumes, action figures (I'm supposed to call them something that sounds cooler, right?), and the like. It's like a teenage boy's dream, and it's a pretty low-key and interesting introduction to Japan's otaku culture.
Dotonbori and Namba: Dotonbori is a neighborhood that looks a little like New York's Times Square: lots of bright lights and hordes of people swarming. Some say that this is the American expat area; if that's true, expats must be able to read Japanese, as there were many restaurants without Latin characters outside. There are dozens of alleys and streets winding through here, offering restaurants that make everything from sushi or fried meat to octopus balls or ramen. In addition to food, there are also stores selling t-shirts, karaoke rooms, bowling alleys, and everything in between. Though the area is about as touristy as you would expect, it can be interesting to walk through. More importantly, the food is much cheaper than I had assumed it would be. Most Japanese people believe that the longer the line, the better the food, so many recommend getting in the longest queue to discover the best food. Namba is the neighborhood around Dotonbori, with more hotels and a major rail station.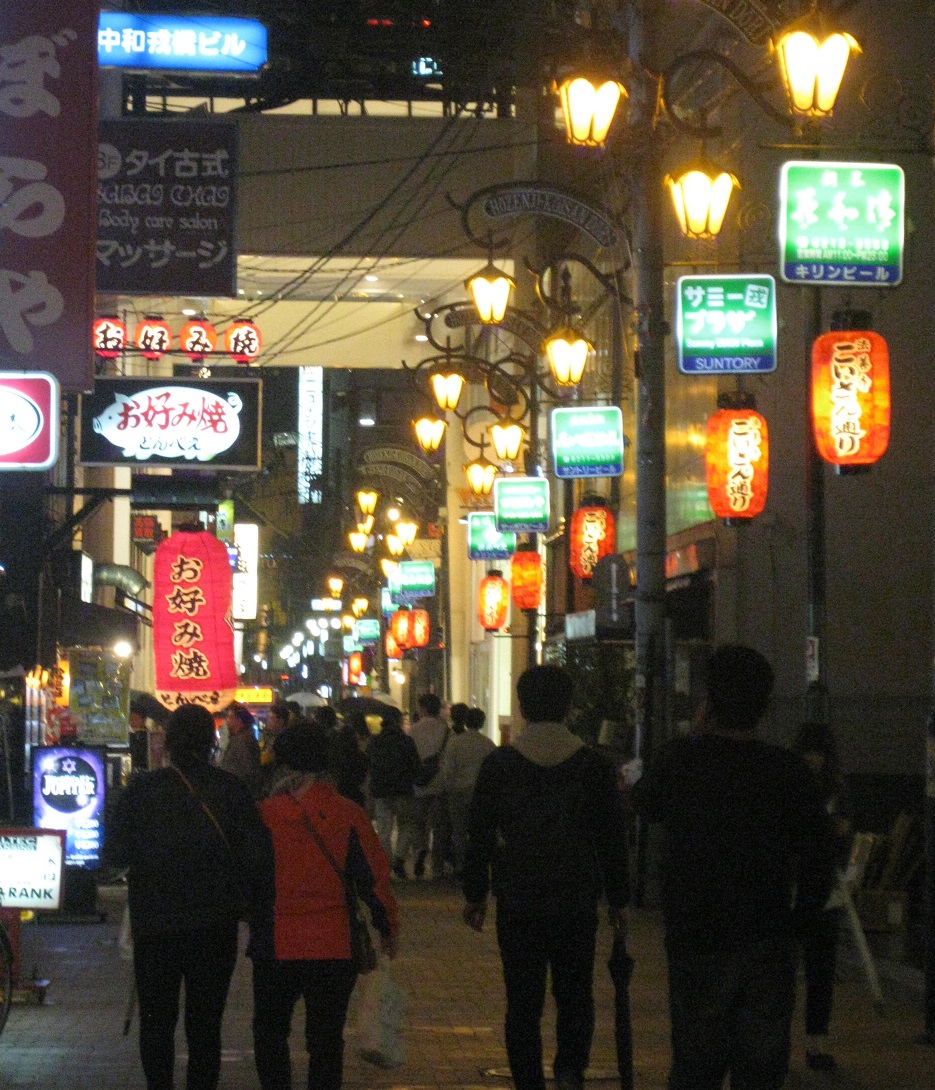 What We Skipped
Asahi Beer Factory: Asahi isn't B's favorite beer, and we already toured Lagunitas brewery a few years ago.
Momofuku Ando Instant Ramen Museum: I really wanted to visit, but it was a bit too far to go in the time we had available. Next time!
Owl Cafe: Though most people enjoy it, one review talked about the animals trying to fly off and being unable to, and that turned us off. Animal cruelty is not our idea of fun.
Spa World: This is a complex that features many types of 'spas,' from Japanese to Norwegian. It's a bit on the expensive and touristy side, but we mostly ran out of time.
Shitennoji Temple: This is said to be the oldest temple in Japan, though the buildings are no longer the originals. It was a bit out of the way for us, and we had walked through a neighborhood of temples already, so we passed.
Isshinji Temple: This temple is said to have twelve Buddha statues made out of human bones and ashes. We had our fill of morbidness at the Capuchin Crypt in Rome, so we passed on this one.
Peace Osaka: This museum about Japan's role in WWII would have been interesting to see, but we ran out of time.
Osaka Science Museum: This seemed to be geared more towards children, so we prioritized other things.
Kamigata Ukiyoe Museum: We passed this museum, which is a small place featuring Japanese woodblock prints. But then we spent too long eating, so we couldn't fit this in.
Osaka Municipal Museum of Fine Art and National Museum of Art and Museum of Oriental Ceramics: We were a bit museum-ed out.
Hanshin Tigers: We were going to try to go on B's birthday, but this guy with experience (and a commercial interest) said that tickets tend to sell out well in advance. Given that I couldn't find one open slot over the course of five days to visit any of the five palaces in Kyoto, even though I checked over a month ahead of time, I'm inclined to believe that the Japanese are planners. We're going to try to see the Tigers play a Tokyo baseball team while we're there.
Umeda Sky Building: Since we went to the Tsutenkaku tower, we skipped this skyscraper. The Tempozan Ferris Wheel is over there too, for those who like that sort of thing.
Kaiyukan Aquarium: Though some claim that this is the largest aquarium tank in world, many say that it is not as good an aquarium as others. It was comparatively expensive, so we figured we could just visit the one in Monterrey.
Universal Studios: This wasn't any more appealing to us here in Osaka than it was in Singapore. No thanks.
Nagai Park: Because of its botanical garden, some say that this is an ideal place to see cherry blossoms in season. We saw them elsewhere, but it seems like it would be cool. Another good viewing place is said to be Kema Sakuranomiya Park.
Open Air Museum of Old Japanese Farmhouses: While the idea sounded romantic, touring farm buildings didn't seem especially novel after growing up in the Midwest.