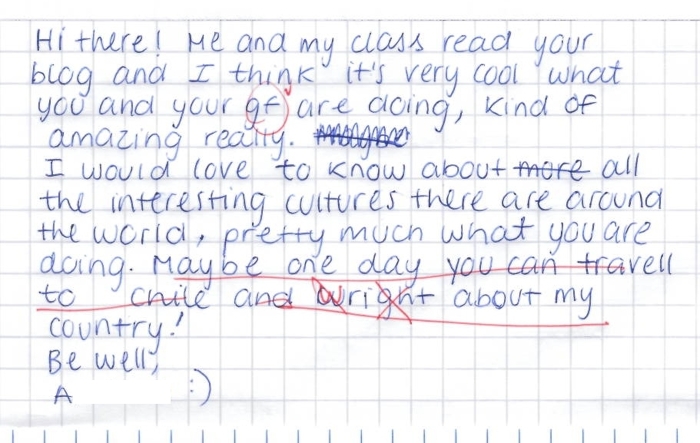 Hi A!
Thank you for the kind words! We think it's pretty cool, too! We've seen lots of amazing things on our trip, and we're very glad that we did it.
Learning how different people live has been one of the best parts of our trip! People everywhere are similar to us in lots of ways, and they are also different in ways that we didn't expect.
For example, Phnom Penh (the capital of Cambodia) has a lot of motorbike traffic, and very few traffic lights. Everyone has to work together to keep traffic flowing smoothly. Even when a car pulls out in front of someone, they never seem to get too upset. That would never work en los Estados Únidos.
I think our trip has taught us about our own culture, too! There are many things that seem universal because we do them every day, but they turn out to be a little bit strange. For example, in much of the USA, we often say, "Hi. How are you?" even to people that we don't know very well, and the answer is usually something like, "I'm pretty good." Everywhere that we have been on our trip, in both Europe and Asia, you would only say, "How are you?" to a good friend, and the answer would probably be much longer!
We would love to come to Chile someday, partly because of your letter!
Best wishes,
B